Call anytime to get started!  (940) 723-5273
We Bring Caring Home…
Our care goes far beyond a checklist of services – it's about building a warm, trusting relationship in an environment you enjoy: your home.  Our caregivers make the emotional investment to build a relationship with you, so you can live the life you deserve.
Our Mission
To keep home care local, trusted, and personal. We are not a franchise. We make business decisions locally to better serve clients in Wichita Falls. Your caregivers are our long-term employees who have proven themselves to be honest, trusted, and compassionate individuals.
Our Values
• Building trust through genuine relationships
• Providing a customized service experience
• Helping clients live longer and more comfortably in their own homes
• Maintaining an outstanding reputation in our community and with our clients
• Exceeding client expectations
Our Clients
You are our priority and we want you to live the life you deserve. CareTeam clients may be seniors who want a little assistance at home, individuals living with disabilities, those suffering from chronic conditions, or patients recovering from recent surgery. No matter your age or the level of care you need, CareTeam will be here for you.
Celebrating 50 Years Of Caring!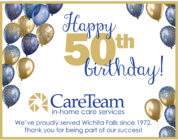 CareTeam turns 50 years old in 2022. We are celebrating with our community partners and our own staff, who have been integral parts to the Team. Thank you, Wichita Falls, for allowing us to care for your loved ones for over 50 years! CareTeam's founder, Ann Popejoy, first opened her home care nursing business in […]
Read More
Read More